How Do I Choose My Wedding Food
Posted by:
Admin
Tags:
Posted date:
01-09-2021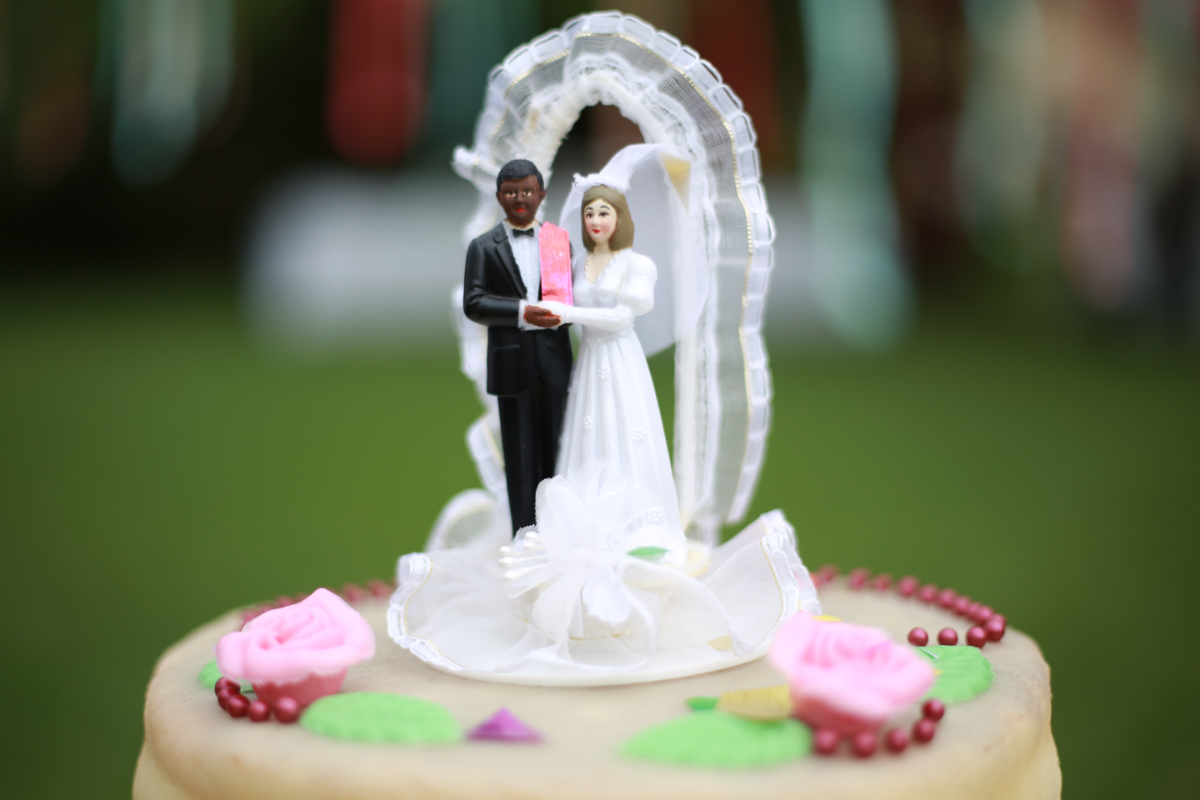 One of the biggest questions when planning your wedding day is: how do I choose my wedding food? We look at choosing the perfect food for a wedding. Read our wedding food ideas to help you choose your perfect meals.
Choosing the perfect food for a wedding
There are various ways in which you could choose your wedding menu. You could serve plated meals, arrange a casual buffet, have family-style serving stations, or have heavy appetisers served by wait staff.
When deciding on a wedding catering style, you should consider a few things; for instance, it is important that you choose something that will work well within the space you have available. It is also worth thinking about what catering style will best combine with the formality and theme of your wedding day.
You can discuss with your wedding venues to determine which serving choices will be more suitable for the room layout and wait services they have available. Another essential thing to consider when you choose your wedding menu is your budget.
Considering what time of year your wedding is happening can help you make wedding menu decisions.
Choosing catering options that involve locally sourced suppliers and in-season ingredients will ensure that your meals are served fresh. It can also lower the cost considerably as the foods won't need to travel a long distance.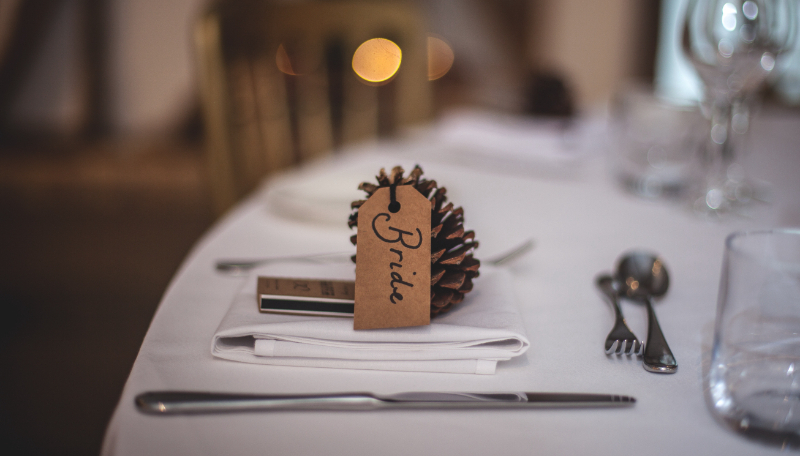 When thinking about the season, you can consider meal options that feel appropriate for that time of year. For example, if your wedding takes place in the middle of the summer heat, then it would make sense to serve lighter, more refreshing items such as iced tea, cocktails, lemonade, salads, chicken, sandwiches and fish.
Whereas, if your wedding occurs in the wintertime, heavier meal selections may be preferred, such as hearty steaks, roast dinners, creamy soups, stews, coffee and hot chocolates.
Incorporate your favourites
Your wedding day is about you, so be sure that you choose food options that you will enjoy, rather than trying to people please. Perhaps you and your partner have a particular food item that has meaningful significance to you? If your first date happened to be in an Italian restaurant, maybe serving a pasta dish at your wedding would be a sweet gesture.
Consider food allergies and dietary needs.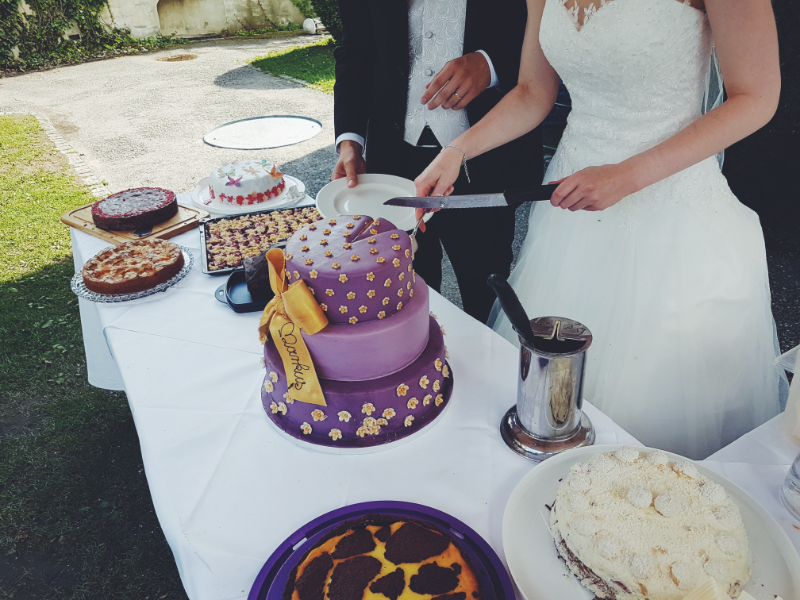 It is a common occurrence that wedding guests are given a choice of dinner options for plated meals. It would be best to create a wedding menu with various food options to accommodate your guests. If a guest has a food sensitivity or allergy that you're aware of, you can request that the caterers offer some food possibilities or alternate options to support this.
It is definitely worth including a note in your invitations informing guests to contact you if any special dietary requirements.
Aesthetically pleasing presentation
Everything else at your wedding will be beautiful, so the food should be no exception. Not only do you want the wedding menu to be delicious, but you also want it to be appealing to the eye. It might be beneficial to inquire with your caterers about how the food is going to be presented.
You may have options to get creative when choosing your wedding menu, providing your guests with not only a delectable meal but a visually appetising dining experience that works wonderfully with your theme.
The perfect meal presentation will add an extra special touch to the celebration and make a memorable impression.
What is typical wedding food?
Your wedding menu can be one of the most perplexing decisions you make during the wedding planning process, especially if you find yourself short on ideas. Ensure you ask your intended venues about any restrictions or limitations they may have before you decide on anything.
Once you find out all the relevant details, you can compile a list of you and your partners preferred dishes for your caterers to work with. Your event caterer can then combine your ideas and preferences with their expertise to devise a delicious and unique menu for your special day.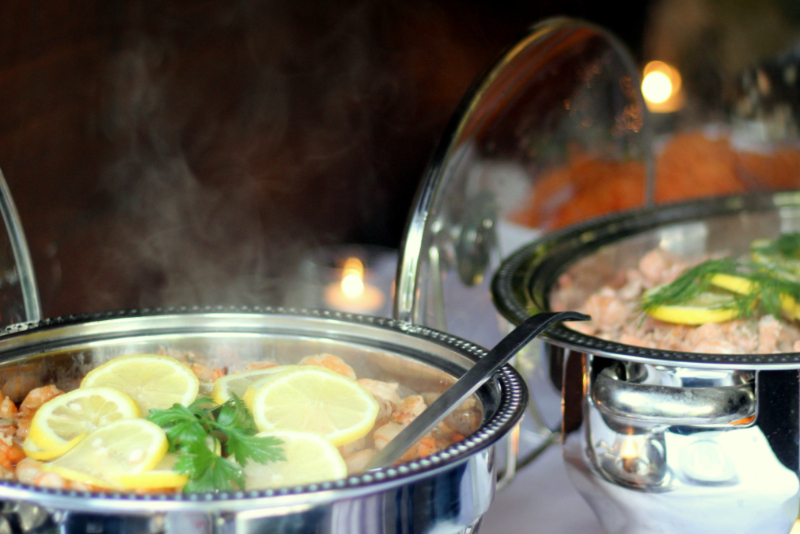 Buffets are a common wedding menu option. They work exceptionally well at weddings with an extensive guest list as they can be considerably less expensive than a sit-down meal.
If your wedding is taking place earlier in the day, one idea might be to have a wedding breakfast or brunch bar.
A brunch bar would include grazing options like savoury snacks, meats, cheeses, crackers, jams, sandwiches and fruits.
This idea could also work well with doughnuts and with ice cream. An ice cream bar at your wedding is bound to be a crowd-pleaser and sure to go down a treat.
You could provide a number of ice cream flavours and a collection of fun sauces and toppings such as fudge, sprinkles and nuts.
Another interesting idea would be to have a pizza station. This idea could be a serious hit as you could serve up various pizza options to suit every guest.
You could have thin or thick crusts options, tomato or barbeque base options, and of course, a collection of different toppings. The possibilities are endless.
A salad bar would also be an excellent idea for a wedding buffet.
There are so many different salad options available; you could have a selection of pasta, rice, fruits, vegetables, sauces, bread, and meat.
Entrée Options for Your Reception
Whether you're serving a plated meal or buffet at your wedding, the entrée can be a challenging decision. The best way is to opt for two or three main entrees and let your guests choose for themselves.
Lasagne or pasta dishes are always a great option as not only are they tasty, but they can be prepared in large batches and have a wide variety of available options.
Fried chicken could be a fun entrée option; you could serve wings with several sauce and dip options.
An excellent alternative to chicken and beef is lamb. Incorporating this unique option into your feast and pairing it with delicious potatoes or veggies will definitely impress your guests.
Another wedding classic is fish. To create the perfect wedding plate during any season, you can easily pair seafood like salmon, lobster, and prawns with various sides such as rice, pasta, potatoes, and salad.
One popular option, especially for summertime weddings, is steak and salad. It is a relatively light meal that is both delicious and elegant. Another favourite is kebabs. They are convenient, tasty, and can come in various options, including meat-free.
Whether you are planning to serve hors d'oeuvres during a cocktail hour or throughout the night, your guests will appreciate having something tasty to graze on and pick at.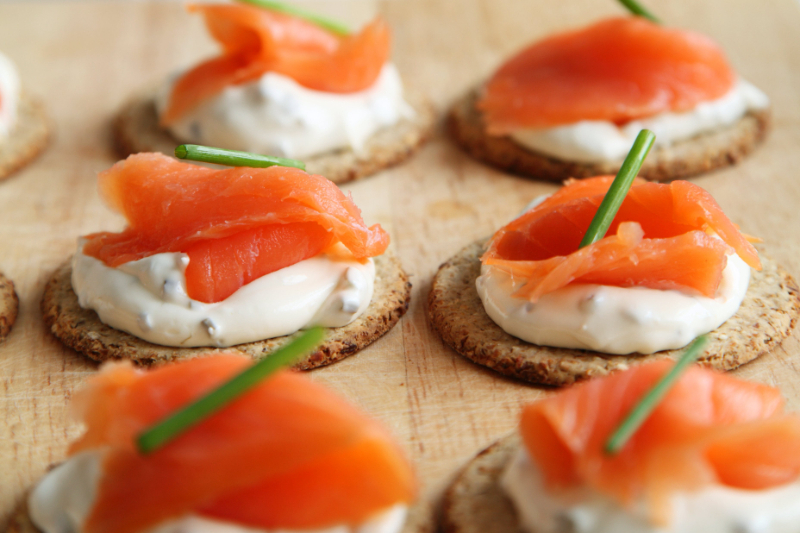 You may want to consider serving bruschetta for a quick and simple appetiser. This Italian classic bite-sized snack has endless options and is always a favourite.
Another fantastic wedding menu option is burger sliders. You can offer various meat and vegetarian options with all kinds of burger toppings to choose from, such as different cheese and sauces.
Chips can be an exciting option to serve as there are all sorts you can do with them. Thick cut chips, triple-cooked chips, French fries, etc.
All can be topped with an array of things like sauces, condiments, cheeses and meat. You can even serve them in novelty ways like in cones or newspaper.
Spring rolls, prawn toast, ribs and other Asian-style grazing options are always a winner at weddings.
There are plenty of options for meat-eaters and vegetarians, and you can even serve them with mini cups of sweet and sour sauce.
Not everyone can afford elaborate wedding menus; sometimes, understandably, steak and lobster just aren't in the budget.
However, just because you can't spend a large amount of money on your event catering doesn't mean you should settle for bland meal options.
Soups and stews are one inexpensive yet popular choice for weddings.
They are the perfect way to warm up your guests if your wedding takes place during the wintertime, and there are so many different options available.
Fajitas, burritos or tacos are all great options when on a budget. The ingredients are filling yet affordable, and guests can customise their meals to fit their preferences.
You can include a mix of meats, vegetables, sauces and other toppings to keep things exciting.
Spaghetti and pasta dishes are always a wedding meal winner. Its delicious, cost-effective, and can be prepared in all kinds of ways.
Burgers are another tasty option that won't cost a bomb. They're a fun, hassle-free option, and you can even get creative with toppings and presentation.
Chilli is an excellent option for wedding menus with a budget. It can be made in large batches, easily, quickly and cheaply.
This hearty meal would be a suitable winter wedding meal and can be served with numerous different side options.
Another option, sure to go down a treat, is the trusty fish and chips. It is substantially less expensive than other fish options and the perfect comfort food.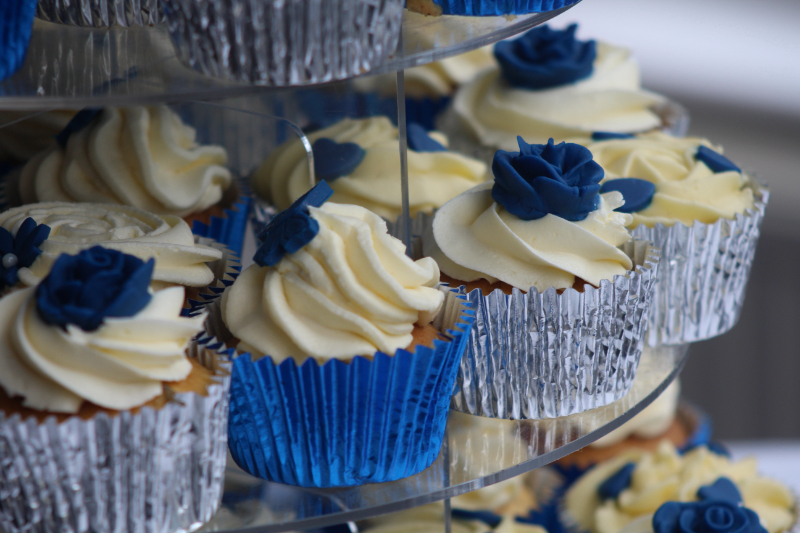 Traditional wedding desserts typically consist of wedding cakes or cupcakes.
While these classic desserts are still a staple in many weddings, using the dessert table to showcase your favourite sweet treats can make things far more exciting.
Of course, your first option is a wedding cake. They can come in an array of flavours, icings and styles, and are just as delicious as they are beautiful—a classic wedding staple.
Another possible option could be mini cheesecakes. With these bite-sized desserts, you can give your guests a beautifully presented perfectly sized serving with a multitude of different options.
Cookies, cupcakes and doughnuts can all be an exceptional choice for your wedding dessert as they are all available in a variety of different ways.
You can customise them to compliment the theme of your big day, use all kinds of flavour and topping options, and they're always popular.
A fun and exciting option could be sweets. If you want a different option to baked goods, then a sweetie station could be a hit.
You can include all of your favourite sweets and chocolate bars and give guests little bags or cones to fill with whatever they like.
What food should not be served at a wedding?
One of the most significant decisions you make while planning your wedding is the food. If you get it right, your guests will leave satisfied, with a good taste in their mouths that will be hard to forget.
One thing you should try to avoid when making catering decisions is focusing on what only you like. For example, if you're a meat lover, you might be tempted to serve guests nothing but meat.
It is important to remember that just because you love something doesn't mean everyone attending your event will feel the same.
Be sure to offer an array of different dishes, including vegetarian options, to accommodate the needs of everyone.
The main attraction at your wedding should be you and your partner, not the food.
So be sure not to go too elaborate or over the top with your meal ideas, because unless you are having a very intimate wedding, it will be more money and hassle than it's worth.
Raw food should generally be avoided if possible, as nobody wants a potential food poisoning disaster to be forever pinned on their special day. Things like oysters, steak tartare, and sushi can be risky.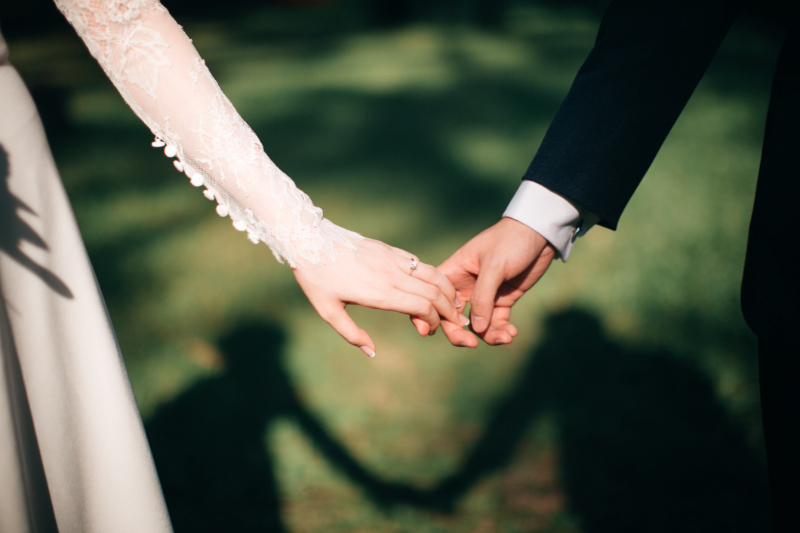 Another thing you should try and avoid is mini versions of everything. Having bite-sized burgers and sandwich bites is a super cute idea for a light snack at cocktail hour, but it's best to feed your guests something substantial when it comes to the main meal to satisfy them adequately throughout the day.
On the other hand, however, don't go overboard on food either. There is nothing worse than trying to dance or socialise when you're stuffed up to the brim, so be conscious not to overfill your guests with an eight-course meal.
Try not to go too exotic when it comes to choosing your food. Whilst you and your partner might be extreme foodies with elaborate culinary tastes, a lot of your guests probably aren't.
It's important to include safer, more accessible options for the less adventurous guests.
However, don't feel obliged only to serve traditional wedding food on your big day. Make things interesting by putting your own inspirational spin on things and serving up your favourite dishes.
---
We hope this article helped you make a decision about the perfect food for your wedding. Are you planning a wedding in Suffolk or Essex? We offer a beautiful Tudor wedding venue located between Ipswich and Colchester.
Follow the link below to find out more about booking our wedding venue in Hadleigh, Essex.