Picking A Wedding Date
Posted by:
Admin
Tags:
Posted date:
09-07-2021
One of the big questions when getting married is: How do you pick a wedding date? We look at the advantages offered by choosing to have your wedding throughout the year.
Wedding Date Basic Tips
Deciding on your wedding date is important but can depend on where the wedding will be held.
If the wedding is going to be a destination wedding, it is usually best to aim for a date around one year out.
This gives people time to get things ready and anything for the trip sorted.
How far in advance should you pick a wedding date?
If you choose a local wedding, it is best to set a date between 6-12 months ahead to ensure everyone is ready.
With all that being said, if you are planning a smaller or micro wedding with the guests being locals, providing six months or a bit less is usually suitable in most parts. You could also have your wedding planner check for the best dates.

Should I determine the wedding venue first or the wedding date first?
Some may have their own opinions on which should go first, but this is completely up to you. If you and your fiance have found your dream venue, it would be best to use this as a starting point to find the best date with them.
However, if you are completely set on the wedding date but are flexible with the wedding venues you choose from, then you can get in touch with venues you are happy with and see the slots which are best suited for you.
Just remember, the soon you find a good date for your wedding, the better the chance of finding a venue which is available on that day.
Should you plan your wedding during a holiday or a three-day weekend?
Choosing your date is very important, but you need to be aware of local events, holidays etc. Doing a bit of research in the location you are determined for is important as these things can make hotels have little room and can impact you drastically.
These can impact the availability at hotels and increase flight costs, and services will be a much higher price as well.
With all this being said, if you are set on a specific day and don't want to change, do your best to get what you can and go for it. It is your big day, after all.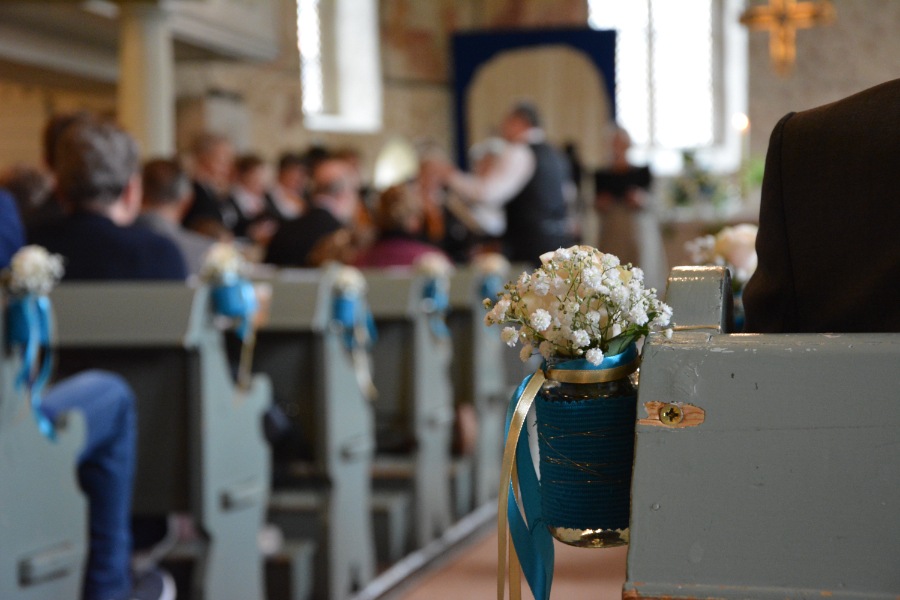 What if some of my guests are advising potential dates?
Although listening to your family and friends can be important in some situations, you should stick to what you want overall and let them work around your plans. Remember that not everyone will be happy with what is happening, so choose what is best for you and go with it, regardless of whether they are a family member or friends.
Are certain months more expensive to get married?
In most cases, the peak wedding seasons are from June through to September. It comes without saying that the wedding vendors will be quite expensive during the busier times and can significantly impact you.
If you are looking to save some money in certain areas, changing to an off-season can be one option you take as there will be less demand and therefore should cost less.
The Best Month to Get Married in the UK
Choosing the right month to get married is important as you would want to remember for a very long time. Keep in mind there are better months and weeks than others due to weather, temperature and more.
Should I Get Married in January?
Only 1% of couples each year choose to get married in January, which means you will have plenty of choices in the venues. You have a much higher chance of saving money during this month.
Not many people will think this, but having a wedding can be magical for many people during winter time.
On the downside of having weddings in January, as it is so close to Christmas, a few of your guests may be having trouble with some money, so the travel and accommodations may be a little bit tricky in times.

Should I Get Married in February?
Getting married in February is rather the same as January because few choose this month to choose for marriage. But this also means the cost for venues and hotels may be lower than normal, which is a great area to save some money.
Although many believe February is a bad and depressing month, it also has great parts as it contains Valentine's Day and Pancake Day, which we all know we would love to include on these days.

On the downside, though, although Valentines Day is in the month, if you want to find a place to save some money, avoid making your bookings near Valentine's Day as the prices will go higher.

Should I Get Married in March?
March is an ideal time for weddings to begin as it is the start of spring, the new beginning of sorts. With the gardens being bare due to the winter season, spring will start to bring back daffodils, blossoms, and crocuses, making a great photo for the wedding.
Although the weather in March is a bit fresh, it has some nice bits of the sun added to make the days better.
There are some downsides of March, including Lent. Lent is in March, which means some guests you have may have given up certain parts, including alcohol and cake. Also, you can still get bits of winter weather, including bits of snow, from time to time.
Should I Get Married in April?
Many of the common venues state that April is a low-season like before, making it an excellent option for money saving.
Many consider April to be a time when rain is common, but it has fewer showers than March on average, and the temperatures are usually warmer in this month.
This time of the month is usually when seasonal flowers such as marigolds, freesias, and lily start to grow again. This is better with the daylight slowly getting longer and longer.

There are a few downsides of having your weddings during April, including three major religious dates during this month. This includes Easter, Ramadan and Passover. This may mean a few of your guests may not be able to make it to your wedding as they have other family plans to attend or they are fasting.

Should I Get Married in May?
Although May is still within the spring season, the rising temperatures and longer sunlight will provide the month with a warm and summery feel.
May is relatively popular when it comes to weddings. However, it is still considered to be outside of the peak season.
There are a few downsides to having your weddings in May. May contains two bank holidays which may mean some of your guests will be making use of this and settings holidays planned during these times.
Also, 13% of UK weddings are taking place during May, so there are fewer deals that will be taking place compared to the other months. In some cultures, they consider May to be unlucky, but that is up to you.
Should I Get Married in June?
June is only slightly outside the peak season for weddings. This means you will not have to book your suppliers too far in advance compared to the more active months.
June is a great time to have honeymoons as the weather is generally nice in Europe, and many destinations have great summer temperatures and prices.
If you like staying towards tradition, many say that June is also a lucky month in many places. Some downsides include a few sporting events in June, so check to make sure there are no clashes with your wedding date there.
Also, the school would still be going so any children will not be able to attend, reducing the number of your friends attending.
Should I Get Married in July and August?
These two months are generally the best time in British summer, so if you are waiting for a great date for an outside wedding, here it is. Unlike the other months, schools are shut for these months so your teacher friends and children will also attend the wedding.
his also has a good association with great weather, which can be amazing on a honeymoon. Some downsides include these months have 14-18% of weddings in July and August, which means they are the most popular times to get married. This also means you will be paying higher prices for services in these months and the venues.
Should I Get Married in September?
September isn't usually as sought after as July and August, but they are still great for weddings and have better flexibility with their wedding dates.
Also, the light is softer than in other months, which makes it great for photos.
With September being when most schools go back, this may get you upset for some reason. If this relates to you, then going for September might not be the best option. Also, it starts to get darker, earlier which may not be suitable for you either.
Should I Get Married in October?
With it being the height of autumn, you may get some great photos for the wedding album. This month is also uncommon, which means you will have more freedom with the dates, and you can also change up the theme to something like Halloween if you like that sort of thing.
On the downside, the weather can change fast, and the average rainfall is starting to increase, so you cannot predict the weather conditions at the wedding accurately.
Should I Get Married in November?
November is usually the best month for a winter wedding as the weather is stable to an extent and the coldness isn't too drastic. As this is not a popular month, you should notice that some prices are beginning to drop slowly, which can be great for your money-saving.
One downside is that you have to ensure the decor is welcoming and warm for the attendees. Also, photos outside may be difficult during certain times.
Should I Get Married in December?
With Christmas so close, you will already be in the celebrating mood, and you can add some different style wedding decorations to match the month.
Not everyone will feel like getting married so close to Christmas, but if you do, this is the best time for you.

With this being when snow is usually starting, transport can be thrown right into chaos. Also, venues can be booked for Christmas venues instead.

We hope this has helped answer which month maybe best for you to choose your wedding day. We wish you all the best in planning your wonderful day.

---
Are you planning a wedding in the Suffolk or Essex areas? Our beautiful Tudor Wedding Venue is located between Ipswich and Colchester. Find out more about hiring our venue for your big day.